Currently viewing the tag: "marathon"
If you've ever contemplated running a marathon, you've also probably thought, I know a CAN do this, but SHOULD I run a marathon?  It's a valid question that probably goes through most peoples minds as they are embarking on this journey.
Runners are Crazy
As mentioned in a […]
Continue Reading

→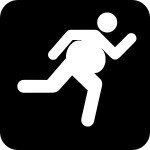 As stated in a previous post, marathon training is absolutely terrible.  This is true!
I don't say that to dissuade you or discourage you in any way.  I'm just "keepin it ril," as the kiddies say.  Painting a picture of what you […]
Continue Reading

→
So here's a question for you, how do you get started training for a marathon?  Seriously?  Yeah, it's the kind of question only a select few crazy people in the world even contemplate.  Maybe its a bucket list thing, or I had an uncle once that ran a race and he didn't die, […]
Continue Reading

→
Sign Up with The Chubby Runner