Currently viewing the tag: "beginning running"
How is marathon training like driving?  Have you ever tried to drive a car while the emergency brake is on?  Of course not, me either.  But I had a friend once that did and he said that it felt like the car was working extra hard when he […]
Continue Reading

→
We are working on a program to get you in the right mindset and physical shape to start running.  In order to know how to arrive at a particular destination, a GPS, like the Garmin Forerunner 310XT running watch, only needs to know two things: where you're at […]
Continue Reading

→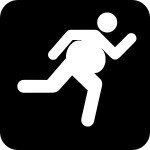 As stated in a previous post, marathon training is absolutely terrible.  This is true!
I don't say that to dissuade you or discourage you in any way.  I'm just "keepin it ril," as the kiddies say.  Painting a picture of what you […]
Continue Reading

→
Sign Up with The Chubby Runner